Get ready for spring with a tea pack and authentic tea set from Bravo Tea! Sign up for our monthly email list to enter. Email subscribers get free promos and insider information about herbalism. Don't wait, sign up today!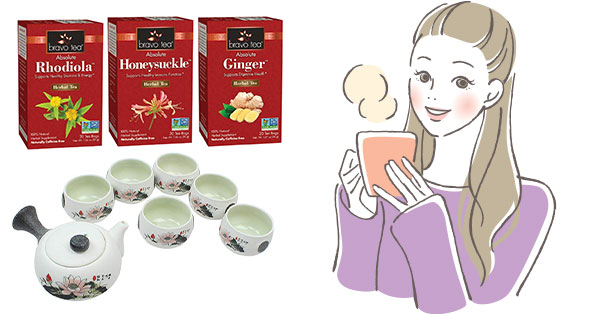 One box of Rhodiola Tea
Rhodiola is an adaptogen that has been used for centuries in Europe and Asia. With its earliest recorded use in Tibet over 1,000 years ago, this herb still remains one of the most popular health and energy agents in the world today for supporting: – Cardiovascular health* – Energy & stamina* – Healthy immune function*
One box of Honeysuckle Tea
This beautiful plant is known as the "Gold & Silver Flower" in China. The flowering honeysuckle is a staple in Traditional Chinese Herbalism. It is primarily used in China and Japan for its health benefits which include: – Support of healthy immune function* – Respiratory detox*
One box of Ginger Tea
More than just a delicious flavor, ginger is a popular ancient herbal remedy. With roots in Southeast Asia, this warming herb made its way around the world as a culinary treasure. For thousands of years it has been used as a home remedy to: – Promote digestive health* – Soothe morning sickness* – Support healthy inflammation response*
Valid March 6- April 15th, 2020 (contest has been extended). Contest available to US entrants only. Must be 18 years or older. Winner will be contacted by email. If winner does not respond after 5 business days, another will be chosen.